Located in Lila close to the Watarrka school are four large homes which often house multiple families, giving their children easy access to education and the adults easy access to the local amenities.
One of these houses is the Williams house, owned by Vera Williams a Traditional Owner of the land. Vera generously donated her house to be accommodation for local families who needed a living space in a central location.
Consistent Maintenance For Healthy Living Conditions
The Foundation originally organised for these family homes to be cleaned and painted about nine years ago. At that time they were in a very bad state with the tenants living in conditions that may not have been clean and hygienic, which could have been a risk to their health.


Since cleaning and painting the houses 9 years ago, the community has had amazing feedback, and the town nursing staff have even commented on less visits from the local children after their living conditions had been drastically improved.


During the covid pandemic and specifically during lockdown periods there were many families residing in the Williams house. Once lockdown was over, these families moved down to Alice Springs and the house was left vacant for about 3 months.


Reg Ramsden, Founder of the Watarrka Foundation noticed that the house was in need of another clean and paint and organised for the Foundation to sponsor this project to get it back into a suitable living space. Reg wanted to not only refresh the look of the house, but also clean out the old furniture and organise donated furniture that was in a better condition. Reg stated:
"With the help of my experienced friend and former co-worker Nigel, we were able to clean and paint the house in two weeks. Lots of germs and scabies can be caught in high use areas which this house is. Painting doesn't just give it a fresh look, it also gives it higher hygiene standards."



Nigel, a previous tour guide at Remote Tours has experience in painting and maintenance, and travelled from Alice Springs to assist with the job. It took a few days to clear out the old furniture from the house, then the whole house was cleaned and thoroughly scrubbed, then painted.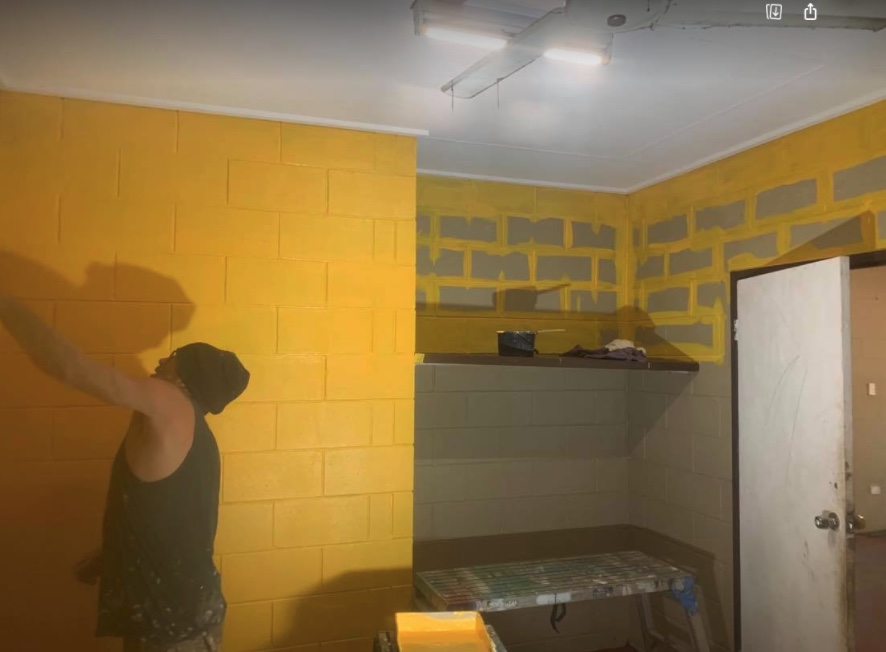 Above: Reg painting one of the bedrooms
Using Opportunities For Life Skills and Education
Vivian Swan, daughter of Vera Williams and student at the Watarrka School assisted with the painting. Nigel taught Vivian how to prep, cut in, paint using brushes and rollers and also clean up afterwards. Vivian kept a thorough diary of her experience and will be signed off with a certificate II in painting from the Watarrka school.


Vivian will be residing in the house once it has been finished, and chose the bright and vibrant colours for the children's rooms. Vivian painted her room a lavender colour, another room was flamingo pink, another mellow yellow, and another was lemon.


Reg is currently trying to source donations of rugs, furniture and whitegoods to put in the house before local families move back in.
To support the Foundation and our projects within the Northern Territory, make a donation at www.givenow.com.au/watarrkafoundation