The International Day of the World's Indigenous People aims to increase awareness about the protection and promotion of the rights of all Indigenous peoples. The date marks the first meeting of the UN Working Group on Indigenous Populations in 1982. On 23rd December 1994, it was decided that the International Day of the World's Indigenous People would be observed on 9th August every year.
According to UNESCO, Indigenous people live in all regions of the world and own, occupy or use some 22% of the global land area. Numbering to at least 370-500 million and speaking almost 7000 languages collectively, they represent a significant part of the world's cultural diversity. Unfortunately, many Indigenous peoples have been marginalised and dispossessed of their rights to ancestral land, through harsh colonisation and modern developments. This has resulted in a significant loss of language, culture and tradition in many Indigenous communities, including our own here in Australia.
As stated by UNESCO:
"Many indigenous peoples continue to be confronted with marginalization, extreme poverty and other human rights violations. Through partnerships with indigenous peoples, UNESCO seeks to support them in addressing the multiple challenges they face, while acknowledging their significant role in sustaining the diversity of the world's cultural and biological landscape."
Featured above: International Day of the World's Indigenous People 20199
Supporting Watarrka's Indigenous community through 2020
There is no doubt that the global COVID-19 pandemic has made 2020 one of the most challenging years of this century. In light of the International Day for the World's Indigenous People, our Team reflected on this time and recounted the actions we took to protect the community from the pandemic.
With the impacts of Covid-19 felt worldwide as early as January, the Watarrka Foundation was quick to assist the Watarrka community as part of a nationwide action plan which encompassed approximately 150,000 First Nation Peoples living in remote communities around Australia. In response to these worrying circumstances, the Watarrka Foundation funded a program titled 'Feed the Watarrka Community'. It was designed to reduce travel into Alice Springs, which subsequently reduced the risk of locals unknowingly bringing the virus back from town. The program supported approximately 60 adults and children from the Wanmarra, Lilla and Ulpanyali communities by providing them with meals and staple goods. We are pleased to report that the program was successful as there were no reported cases of COVID-19 in the Watarrka region.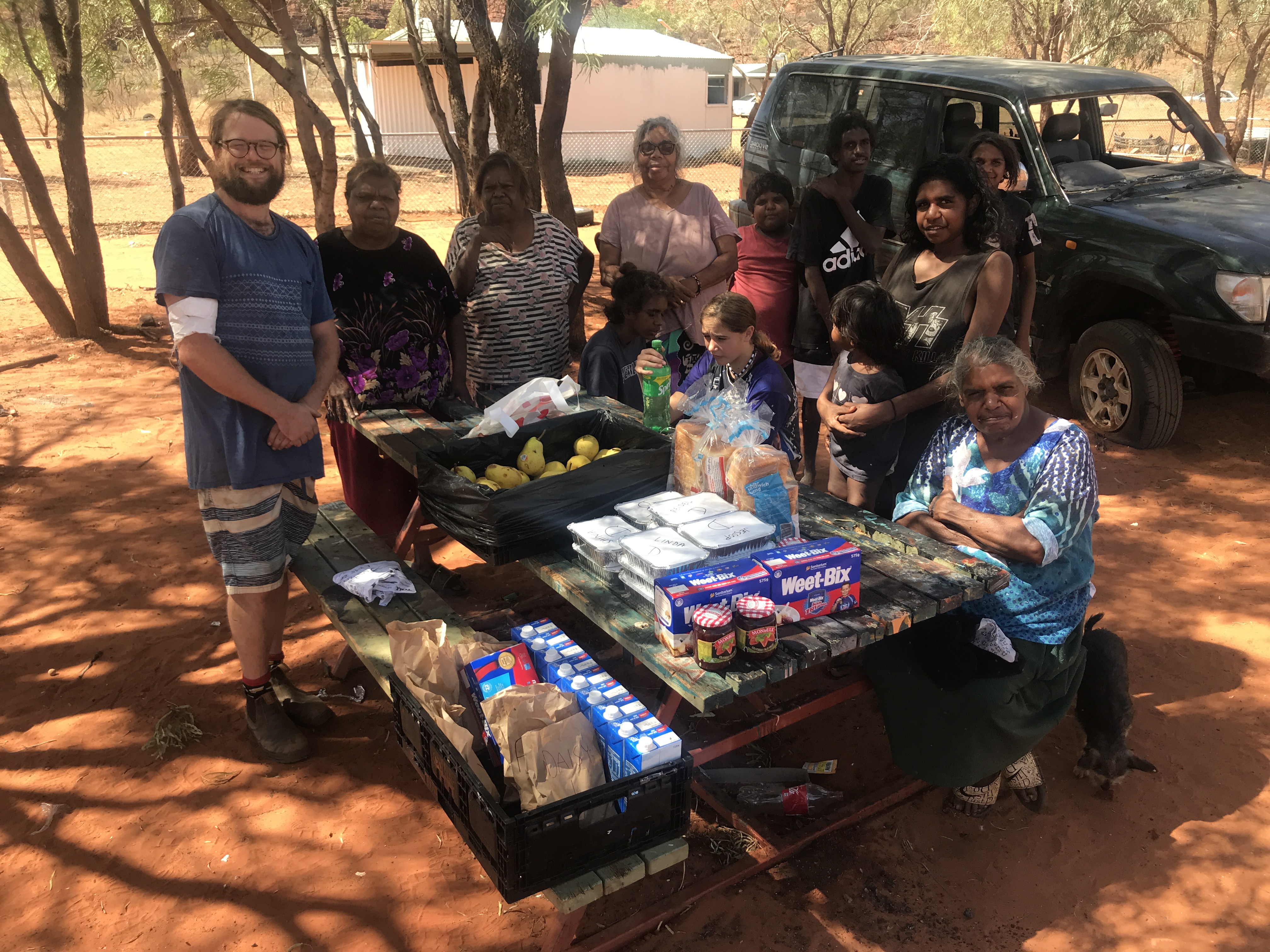 Featured above: Justin Burrill (Feed the Watarrka Community Chef) delivery food to Watarrka locals