Another year has passed with another successful Sports & Storytelling festival coming to a close. The annual festival brings together children from three remote areas (Lila, Areyonga and Finke) to play sports and engage in poetry and storytelling activities, encouraging excitement around education and attending school.
Sports & Storytelling Festival 2018
In 2018 there were 30 Aboriginal children in attendance at the festival, with volunteers from Dentons, Westpac Bank, Maxima Recruiting, Avant Mutual, AFLNT, Poetry In Action, Geelong College Melbourne and Mentone Grammar Melbourne.
The festival ran for 3 days, with a traditional smoke ceremony held by the elders to welcome the children and volunteers. Over the course of the festival there were various sporting, artistic and cultural activities, including a play performed by the children and organised by Poetry in Action, called "How The Emu Lost It's Wings". The overarching theme of the festival is to promote a healthy body and a healthy mind.
Campbell Hudson, Festival Organiser said:
"The annual Sports & Storytelling festival gives the local children a great opportunity to learn about healthy habits that they can implement in their everyday lives
. Activities like growing fresh food from their own vegetable garden and playing group sports makes these healthy habits fun."

Featured above: Wrap up video from the 2018 Sports & Storytelling Festival
The Future Of The Festival
The Festival, now in it's 6th year has become one of the most exciting times of the year for the Aboriginal children living within these remote areas. The Watarrka Foundation, in partnership with festival sponsors and other local community bodies will continue to organise and hold a Sports & Storytelling Festival each year to bring these children
together.
Reg Ramsden, Director of the Watarrka Foundation said:
"
They're kids that just make you smile, they ooze their culture and know where they're from. They wouldn't have the opportunities that we're trying to give them, and they love coming to the sports & storytelling festival.
"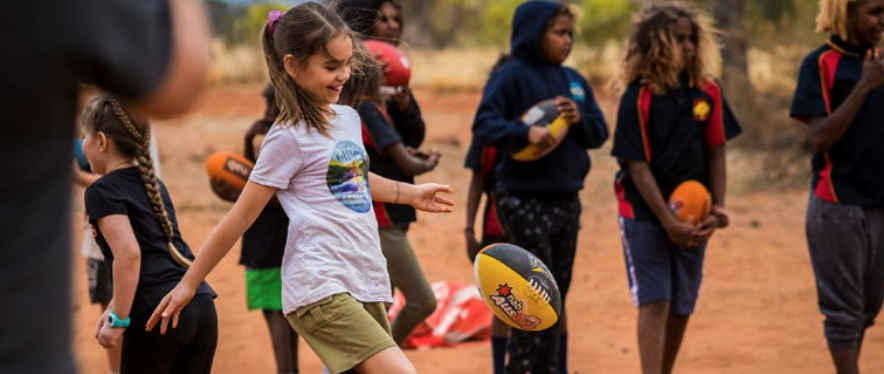 One of the major aims of the festival is to make education fun for these children, encouraging them to turn up to school and focus on learning. On any given day in the Northern Territory, 30% of Aboriginal children are not at school. One of the major barriers to education within this community is getting the kids to turn up, and through the Sports and Storytelling Festival the Foundation hopes that these children will have a reason to go to school and learn.
By involving volunteers and other young professionals from Sydney, the children are exposed to a new lifestyle and opportunities that they could harness if they focus on their education.
Manny Bell, Advisory Group Member to the Watarrka Foundation stated:
"Without the festival, these kids wouldn't be able to get the exposure to proud Indigenous University graduates. A decent education is something that every Australian deserves.
"