Through nation-wide social distancing measures and the implementation of strict biosecurity areas in remote regions, Australia has successfully flattened the curve in its fight against Coronavirus. The Watarrka Foundation is pleased to report that the Watarrka region has had no confirmed cases of COVID-19. We believe that the Feed the Watarrka Community Program played a significant role in this pleasing result. The program removed the need for locals to travel for supplies, which significantly reduced the risk of locals unknowingly bringing the virus back from town.
Despite this positive outcome, our team feel it necessary to continue providing this service to our community for the foreseeable future. As restrictions are lifted, it is known that complacency in social distancing behaviour and hygiene practices can result in a spike in cases. As such, we will continue to adhere to government recommendations surrounding social distancing, hygiene practices and travel, as these are imperative to the good health of our community.
In our first article for May we provide an update about the food program, kindly supplied to us by Watarrka's Primary Health Care Manager Chris Hakanson. We have also included information and resources about COVID-19 and insight into current happenings in the Northern Territory.
Feed the Watarrka Community Program Update
The 'Feed the Watarrka Community Program' has been running for 8 successful weeks now. The program, which supports approximately 60 adults and children from Wanmarra, Lilla and Ulpanyali, has assisted in keeping COVID-19 at bay in the community. The program will continue to operate for the coming months.
In
last month's article
the Watarrka Foundation recognised the incredible contributions of local tour guide Justin Burrell. We would like to once again thank Justin for his commitment to the program as his role in the kitchen comes to an end. The operation of this program has now moved to King Canyon Resort where local chef Marco will take over.

Chris Hakanson kindly shared the following words from Kings Canyon Resort General Manager Michelle Ikin about how the program brought the community together:
"Thank you for your amazing efforts this year in planning and instigating the Feed the Watarrka Community program, along with Remote Tours and the Watarrka Foundation. The program has supplied nutritious home cooked meals to everyone in the local community. The example you have set for all of us to follow is an amazing tribute to your insight and tenacity in keeping this community strong and alive. We are privileged to be part of the continuing support for local communities and their wellbeing through offering access to our commercial kitchen, storage and freight. We will continue to maintain the availability of food which will sustain the local outstations."
The Foundation would like to thank Michelle, Marco and the team at Kings Canyon Resort for donating their kitchen facilities and people to help support this essential program in the community.
COVID-19 Information and Resources
As stated by the World Health Organisation, Coronavirus disease (COVID-19) is an infectious disease caused by a newly discovered coronavirus. Most people infected with the COVID-19 virus will experience mild to moderate respiratory illness and recover without requiring special treatment. Older people, and those with underlying medical problems like cardiovascular disease, diabetes, chronic respiratory disease, and cancer are more likely to develop serious illness. As covered in our recent article
'The Importance of Protecting Our Community from COVID-19'
, Indigenous communities are at greater risk than the general population due to a variety of health and lifestyle factors.
For a general overview of COVID-19, we recommend
this fact sheet
produce by the Department of Health.
The video below, produced by the Aboriginal Medical Services Alliance Northern Territory, outlines safe hygiene practices and social distancing tips for remote Indigenous Communities in the Northern Territory. Access the video
here
.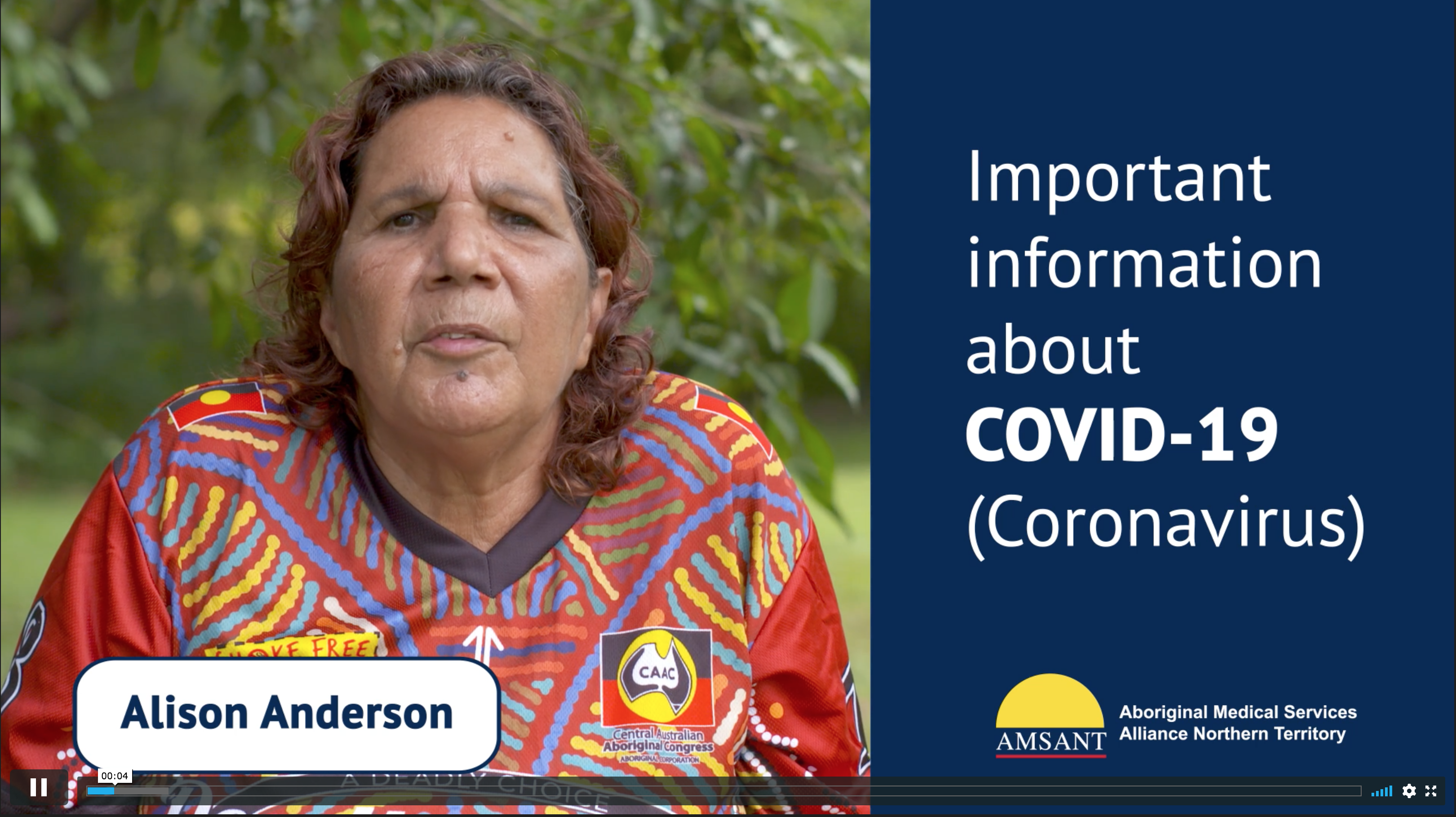 Featured above:
AMSANT Community Health Video
Restrictions in the Northern Territory
As covered in our previous articles, the Northern Territory is currently implementing social distancing measures and have instated strict biosecurity zones to protect vulnerable Indigenous communities from the virus. At current, all existing non-essential permits have been suspended and no new non-essential travel permits will be granted until further notice. For people wishing to leave biosecurity zones, there are no restrictions, however anyone wishing to re-enter must quarantine for 14 days in an excluded area in the NT prior to re-entering. According to the Northern Territory Government, people cannot enter 'designated areas' except in the following circumstances:
1. You are able to complete the traveller health information on the designated area compliance form and:

2. You are an approved remote essential area worker (and hold an approved remote area workers (AREW) ID card) or

3. Have an exemption from an authorised person (and can provide evidence of this exemption at the checkpoint) or

4. You are a resident within the designated area, and can provide evidence to prove you have completed 14 days quarantine.



The Northern Territory (NT) Government is beginning to take incremental steps towards easing the restrictions put in place to combat coronavirus. However, many of these changes, if granted, may only be implemented in urban regions for now. A three-step roadmap has been put together, which is intended to guide the state back to what they phrase as 'the new normal'. The roadmap is based on principles for personal responsibility, physical distancing, and hygiene. They state that the milestone dates featured in the map is indicative only and depends on no community transmission and people complying with the principles.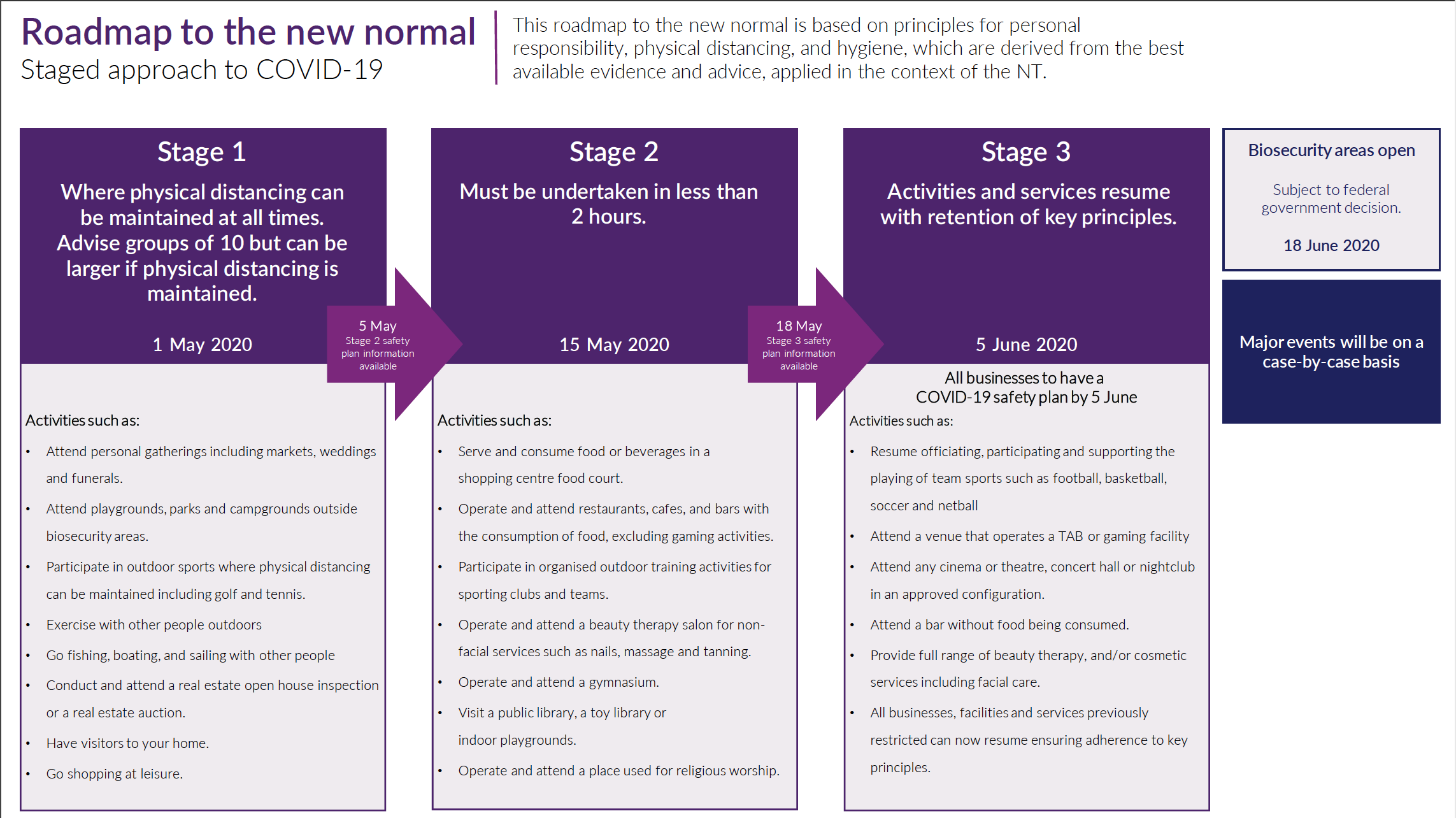 Other Resources for Indigenous Communities